Today is the first day of Women's History Month! Throughout the month of March we are excited to share Helena's herstory – snippets about the extraordinary women who have had an impact on the Queen City. Stay tuned on our social media accounts @helenahometeam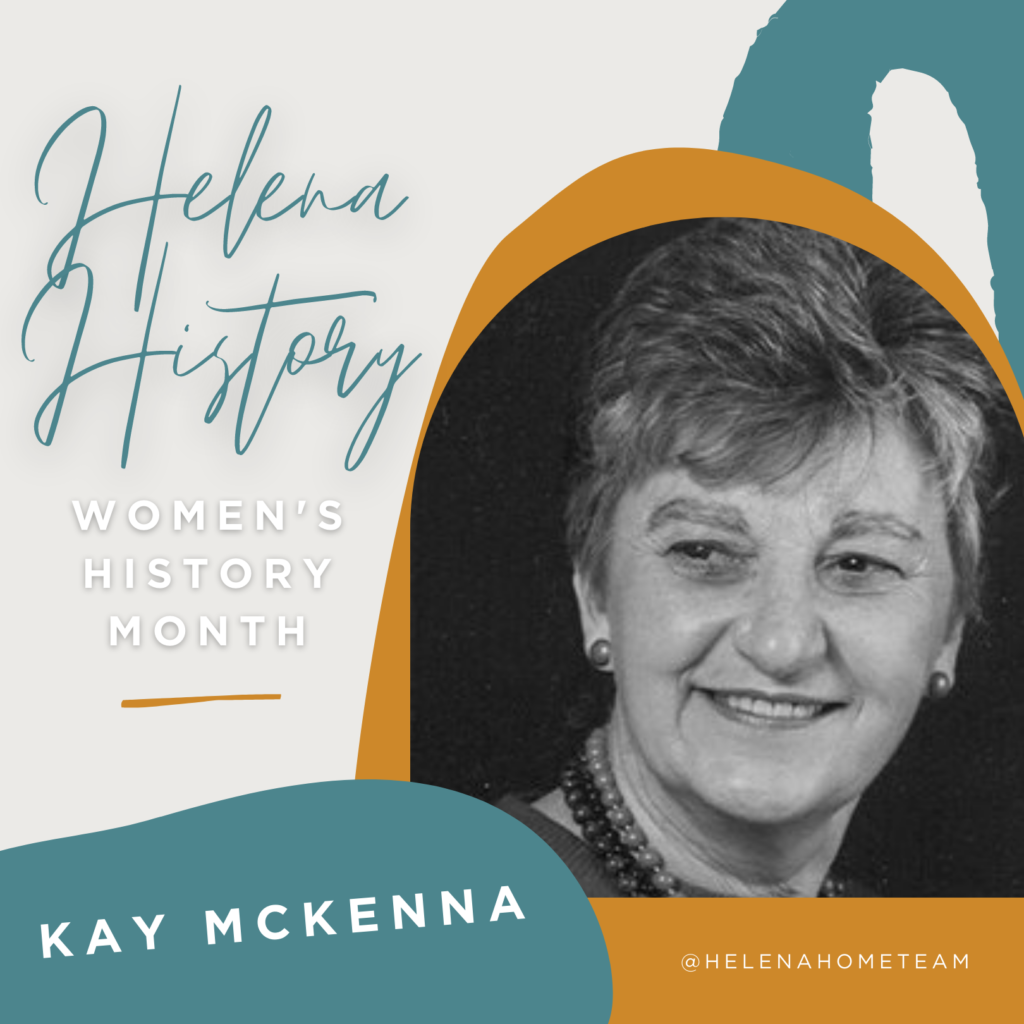 Former Mayor of Helena, Harriet "Kay" Mckenna assisted the community on many boards, including President Elect of the Helena Area Chamber of Commerce, Board of Directors of the United Way, President's Council at Carroll College, Helena Rotary Club, Montana Ambassadors, and the Montana Association of Female Executives. In 1991, Kay was elected Mayor of Helena after serving several years on the Helena City Commission. On top of all of these accomplishments, the Kay McKenna Youth Foundation was started in memory of the late Kay Mckenna. Mayor Kay Mckenna's dream was to have a safe place for Helena's children to go during the summer and participate in sports, arts, and educational opportunities at no cost to the children. This foundation made all of that possible.
Sources:
https://kayskidsmt.org
https://www.findagrave.com/memorial/89166955/harriet-ramona-mckenna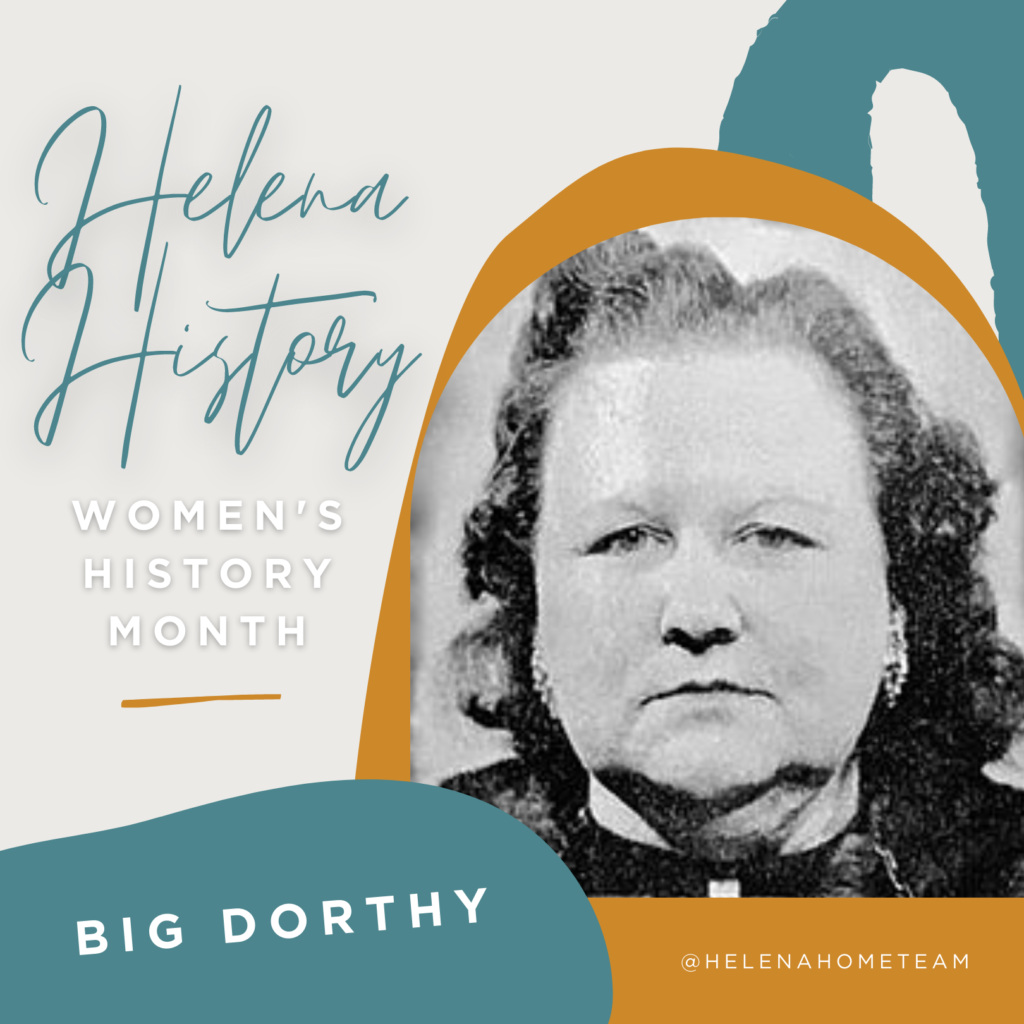 Dorothy Baker (Sept. 30, 1915 – May 14, 1973) was well-liked and respected in the town of Helena. She ran a brothel known as 'Dorothy's Rooms' on Last Chance Gulch from the mid 1950's until a police raid in 1973. Dorothy's Rooms were known for their cleanliness and honesty and the community supported her operation. While running the brothel she also donated to many charities making her very popular with the local Helena people. Today, the main floor is occupied by two businesses, a bar and restaurant known as the "Windbag Saloon and Grill", and the adjacent "Ghost Art Gallery." Here, the walls are filled with secrets and even the spirits of the past patrons.
Sources:
http://www.helenahistory.org/dorothys_rooms_main.htm
https://en.wikipedia.org/wiki/Dorothy_Baker_(madam)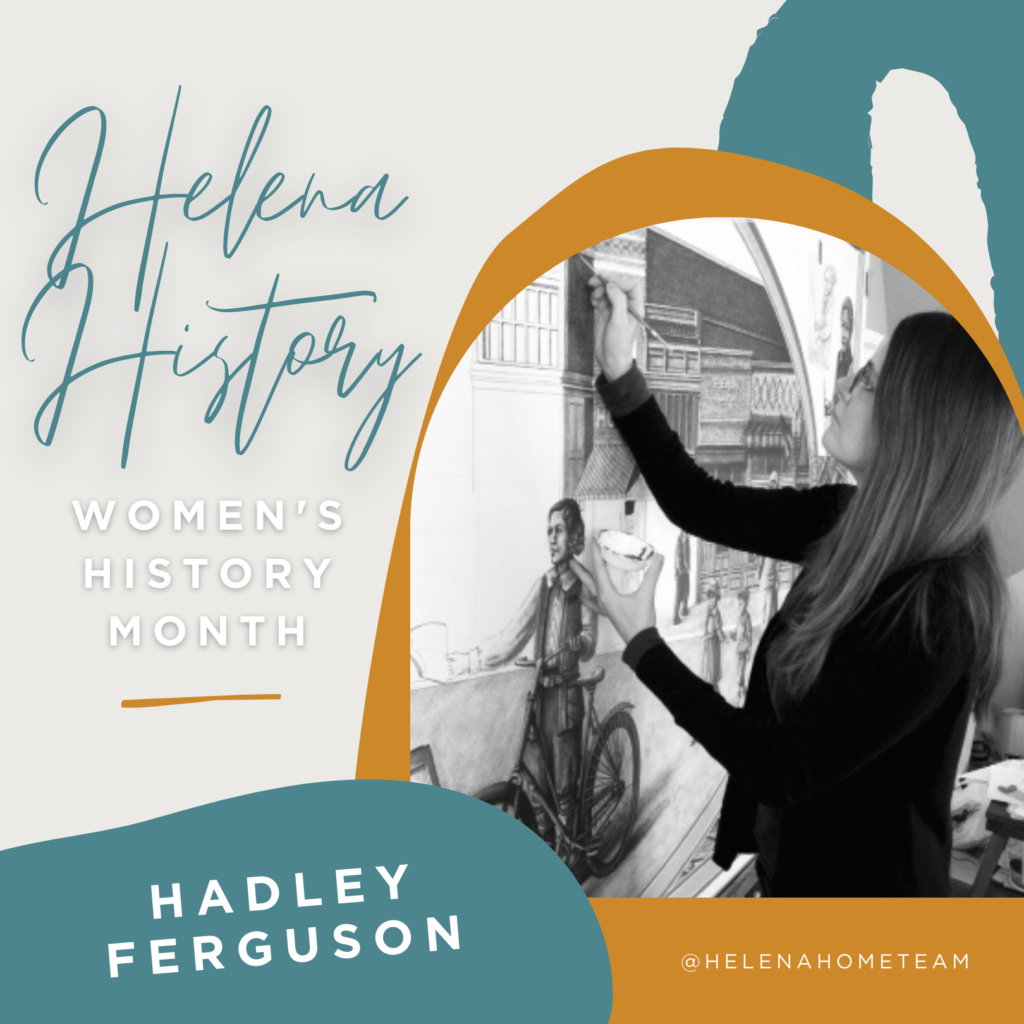 On the third floor of the Helena Capitol Building lies a mural painted by a local Montana artist, Hadley Ferguson, to celebrate the history of Montana women as community builders. This art piece, unveiled in 2015, was initiated by the 2011 Montana Legislature with Senate Bill 59 and supported by private donations. One panel of the mural is set in the late nineteenth century in Western Montana and depicts a group of Native women at a homestead trading for goods. The second panel is centered around women's suffrage. Ferguson worked alongside historians to determine the appropriate subjects for her painting. The artist explained, "This piece is about the generations of women in Montana who built families and contributed to their communities, to the economy, and to politics by working together to build strong communities for generations to come. It is not about one single important woman, but about all women.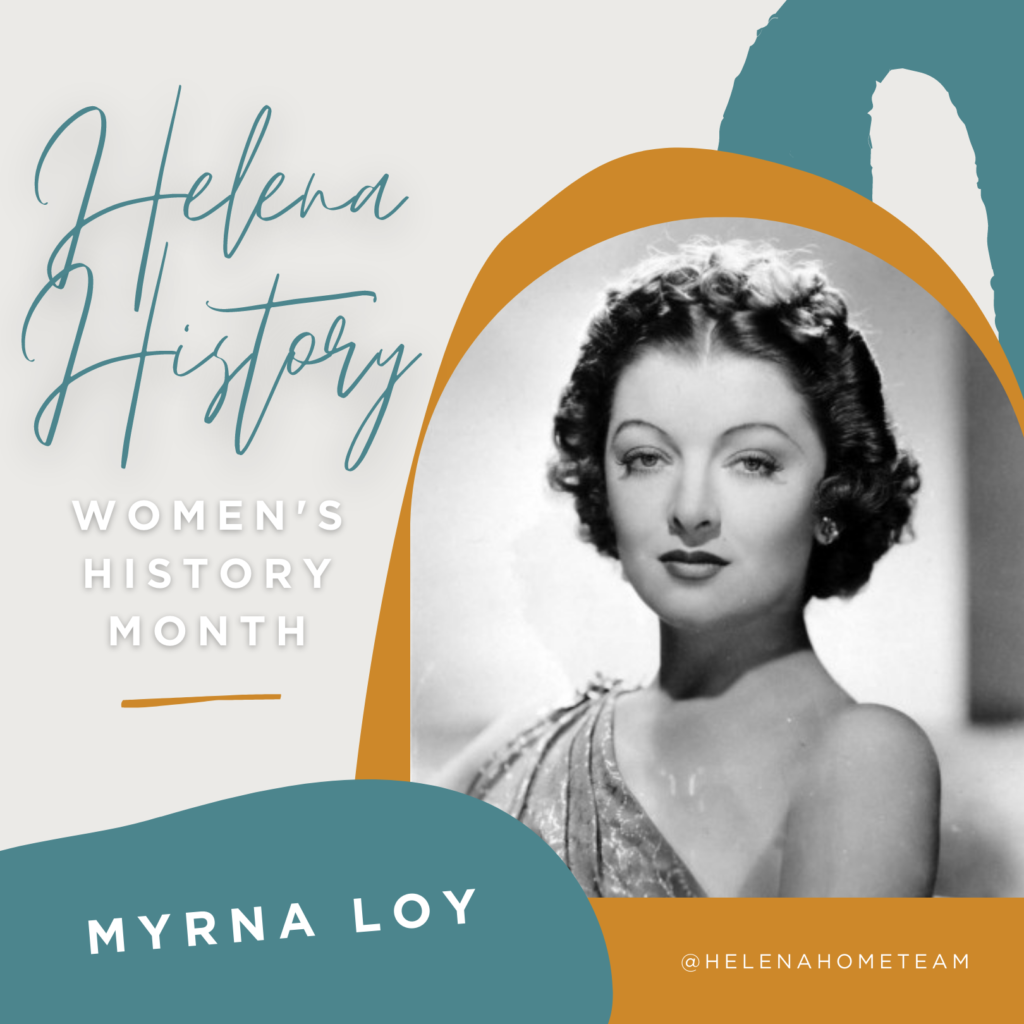 Montana's first lady of film, Myrna Loy, was born Myrna Adele Williams on August 2, 1905 in Helena, Montana. When she was thirteen, Myrna's father died of influenza, and the rest of the family moved to Los Angeles. In Los Angeles she caught the acting bug, and appeared in local stage productions in order to help support her family. She struggled landing big roles and securing an acting contract but after landing the film The Thin Man (1934), Myrna would appear in five more in the series. Myrna was a big box-office draw. She was popular enough that, in 1936, she was named Queen of the Movies and Clark Gable the king in a nationwide poll of movie goers. She was later buried in Helena, Montana. The Helena Film Society in Helena was named after actress Myrna Loy, who grew up down the street. Myrna Loy's grace, wit, creative artistry, social activism, and humor inspires those at the Myrna Loy daily.
Sources:
https://themyrnaloy.com/about/our-history-about-myrna-loy/
https://www.imdb.com/name/nm0001485/bio
Josephine "Chicago Joe" Airey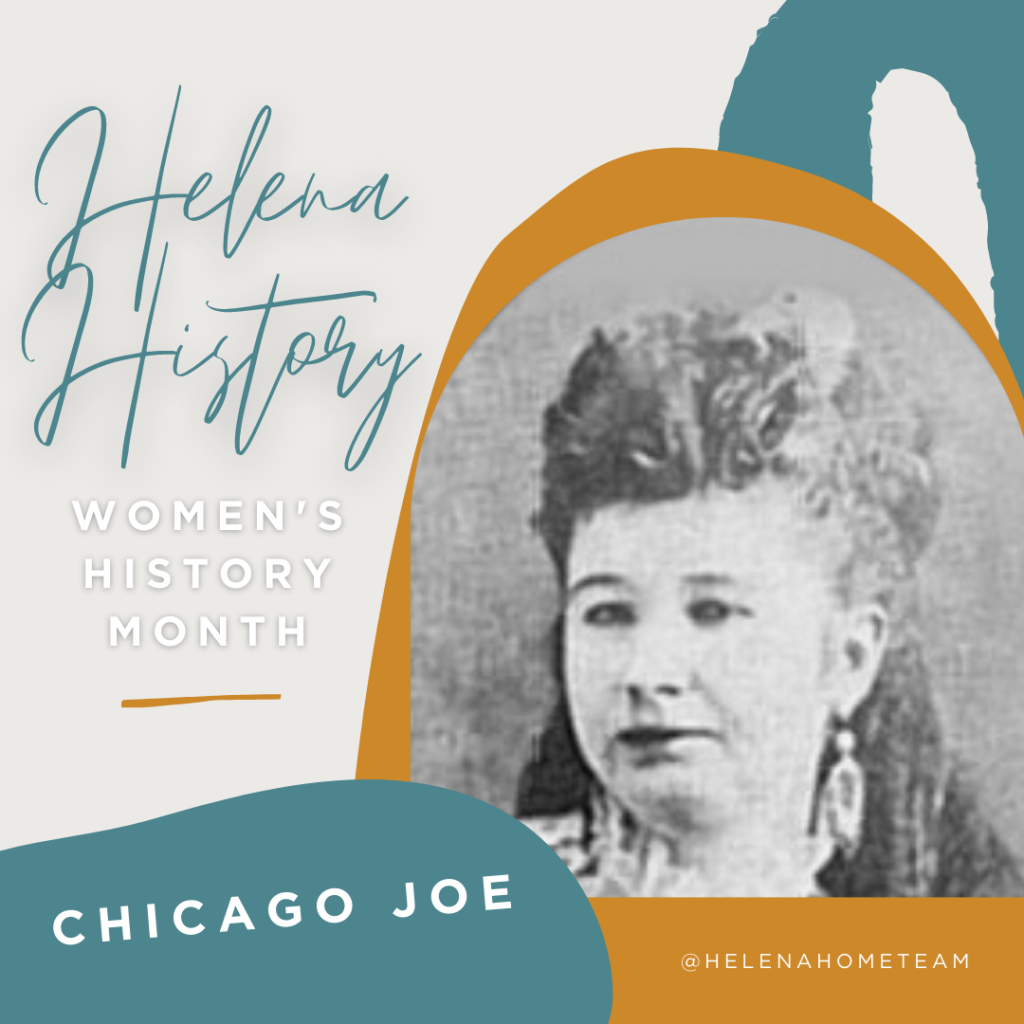 Josephine "Chicago Joe" Airey was born in Ireland in 1844. Back then, for uneducated women, there were only two routes: to marry rich, or to work in prostitution. Only one of those offered her freedom, and that was prostitution. She was a madam, and a proprietor of brothels, dance halls, a variety theatre, and saloons in Helena, Montana. Following the gold rush, she moved from Chicago to look for opportunity in Montana. She eventually became the most influential landowners in Helena and gained a reputation as a shrewd businesswomen. Airey purchased a log cabin, hired girls and musicians and opened what was known as a hurdy-gurdy house. The miners' wages were high, their hours were long and the mining season was short. Her plan was to extract as much money as she possibly could from these men in the short time they were there. When Helena was named the state capital, she expanded her clientbase to lawyers, and legislators who worked year round. She was known as "Chicago Joe" Hensley following her marriage to James T. Hensley. In the final years of her life she lived under meager conditions. The glory of her early days had been dried up in the panic of 1893 and her death saddened the community.
Sources:
https://en.wikipedia.org/wiki/Josephine_Airey
https://www.irishtimes.com/life-and-style/abroad/chicago-joe-the-illiterate-irishwoman-who-became-montana-s-great-madam-1.3043821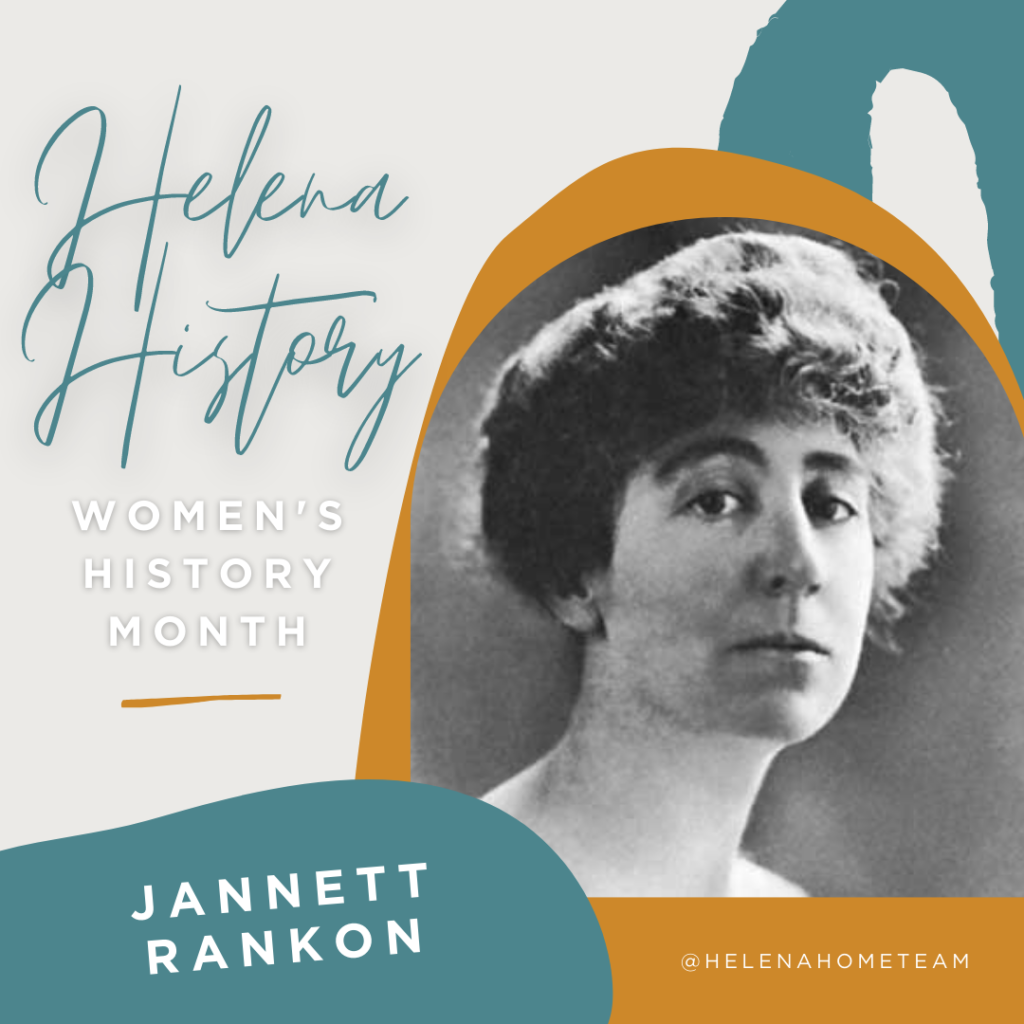 Jeannette Rankin, born in Missoula, Montana, became the first woman elected to congress years before the Nineteenth Amendment guaranteed the right of women to vote. In office she introduced the first bill that would have allowed women citizenship independent of their husbands and also supported government-sponsored hygiene instruction in maternity and infancy. She became an outspoken isolationist and was one of 49 members of Congress to vote against declaring war on Germany in 1917. She served two consecutive terms in the white house during World War l and World War ll where her unpopular stand against war cost her the Republivan Senate nomination in 1918. She is known for her votes to keep America out of those wars while also being a tireless activist working to expand voting rights for women, ensure better working conditions for laborers across America, and improve health care for women and infants. In 1914 she became legislative secretary of the National American Woman Suffrage Association, and in that same year she led a successful campaign for woman suffrage in her native state, Montana.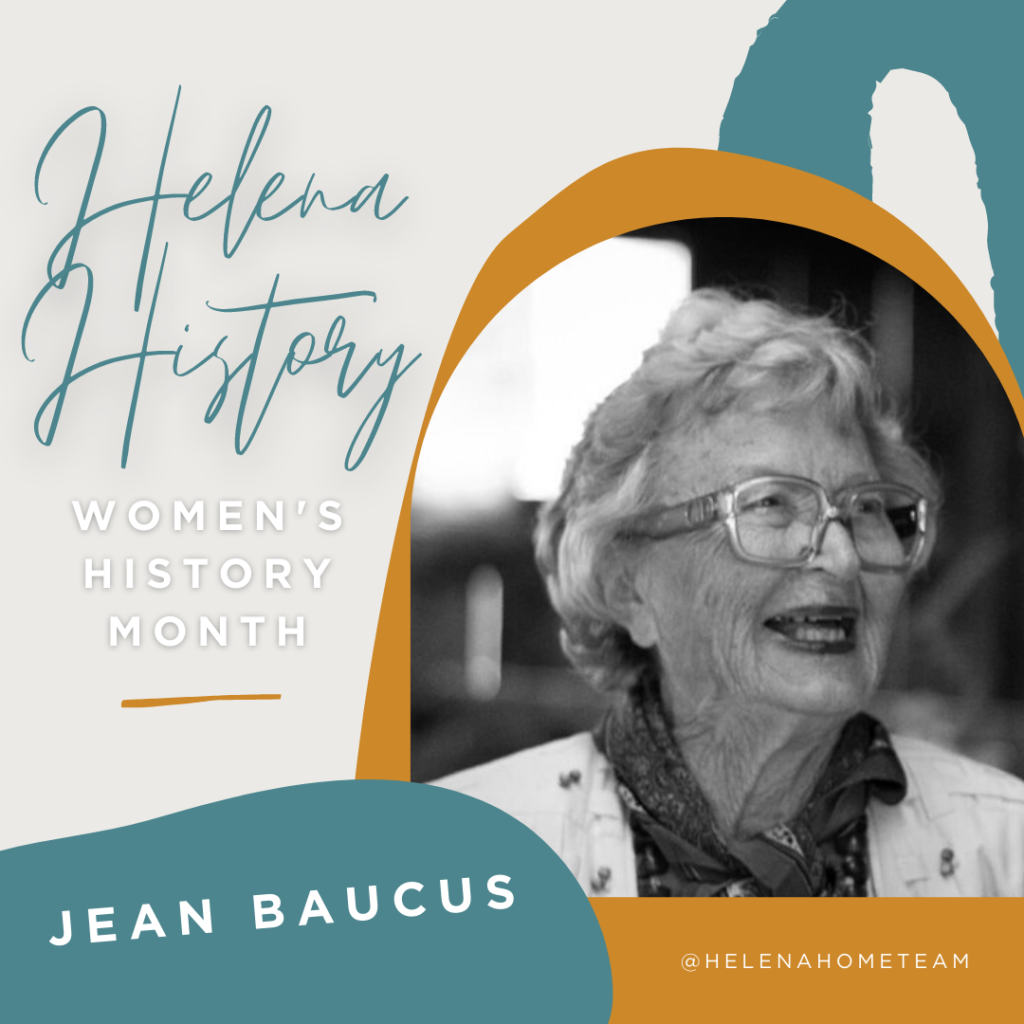 Jean Baucus is a rancher, historian, and patron of the arts. She is also a mother of three children, including U.S. Sen. Max Baucus. Jean Baucus was raised in Helena, Montana on the historical Sieben Ranch where her whole life revolved around ranching. She rode horseback, participated in family outings, photographed ranch activities and planned the great Fourth of July celebrations at the ranch. Baucus attended Hawthorne School and graduated from Helena High School. She received a bachelor's degree in economics from Stanford University in 1939. Jean Baucus wrote four books about Helena: "Helena: Her Historic Homes, Vols. 1 and 2," "Gold in the Gulch," and "Helena: An Illustrated History" with Vivian Paladin. She also wrote a book about her grandfather, "Henry Sieben, 1846-1937: Legacy of Livestock and Land." Baucus is remembered as a fan of art and history. Jean's love of the ranch extended to Montana history in general because the two were often interwoven.
Sources:
https://helenair.com/news/local/obituaries/jean-baucus/article_4e0271b4-2946-11e1-925b-001871e3ce6c.html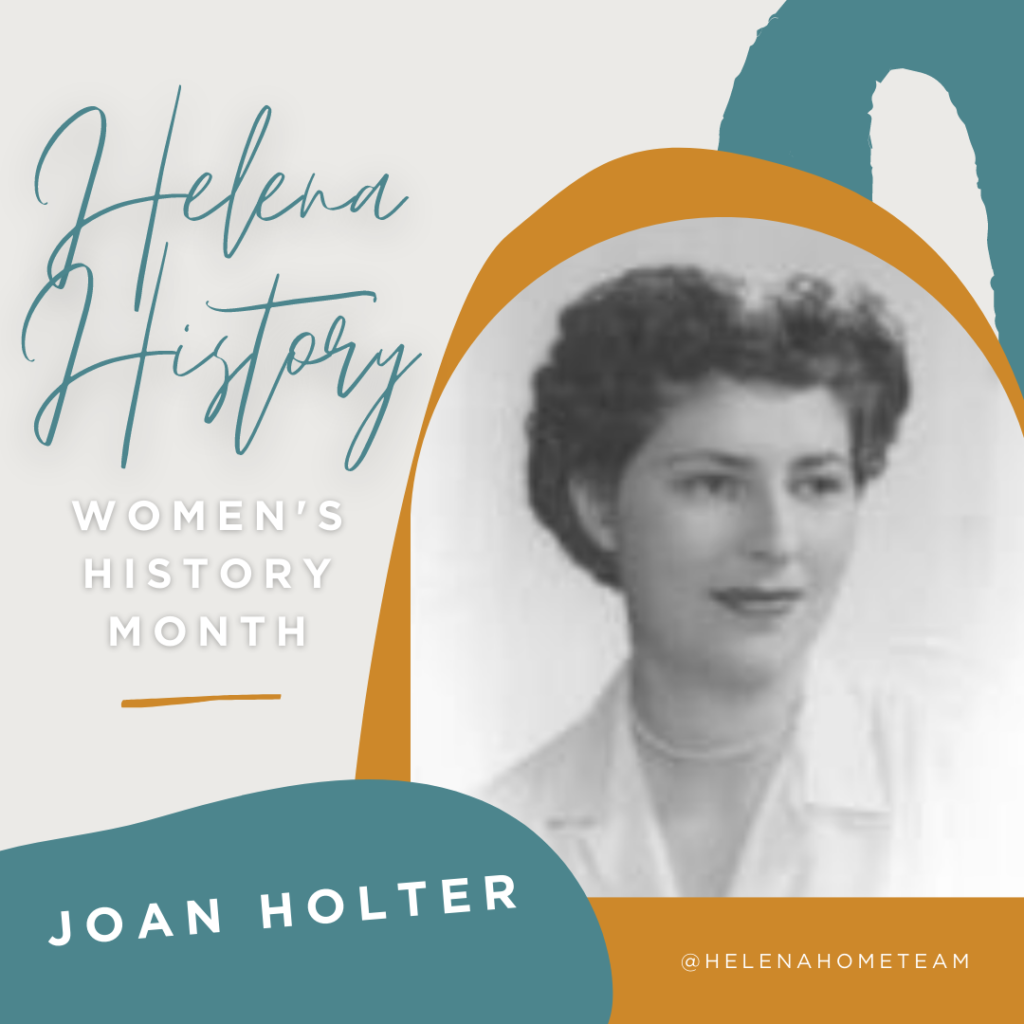 Joan Treacy Holter was born to a family of pioneers in Montana and grew up in Helena, Montana. After graduation, she was among the first women to be hired as a chemist by Shell Oil and loved the field of chemistry which she later left after having children. After the death of her husband Jeff Holter, she moved back to Helena from California where a local group was working toward the establishment of a new contemporary arts museum in Helena. One of the members approached Joan about it. She, along with William P. Sherman and Alberta Bair, made one of the three major founding gifts to start it, and became one of its strongest supporters. The museum became known as the Holter Museum, and Joan served on its first board of directors and cut the ribbon at its opening in 1987. Joan was quite interested in Montana history, and both donated to the Montana Historical Society and volunteered there as a docent. Her philanthropy touched many Helena area organizations, such as the Archie Bray Foundation, the Grandstreet Theatre, the Myrna Loy Center, the Helena Symphony and others. She donated to Carroll College and established an endowment in Jeff's name.
Sources:
https://billingslibrary.org/DocumentCenter/View/4469/Holter_II