After finding the perfect location in the heart of Downtown Helena on the historic Last Chance Gulch, we transformed a storefront into our dream office space. It took about 2 months and was a fast and furious project (we were just so excited to open the doors of our new business) but we had an amazing team of contractors and local service providers to help us get the job done professionally, and quickly!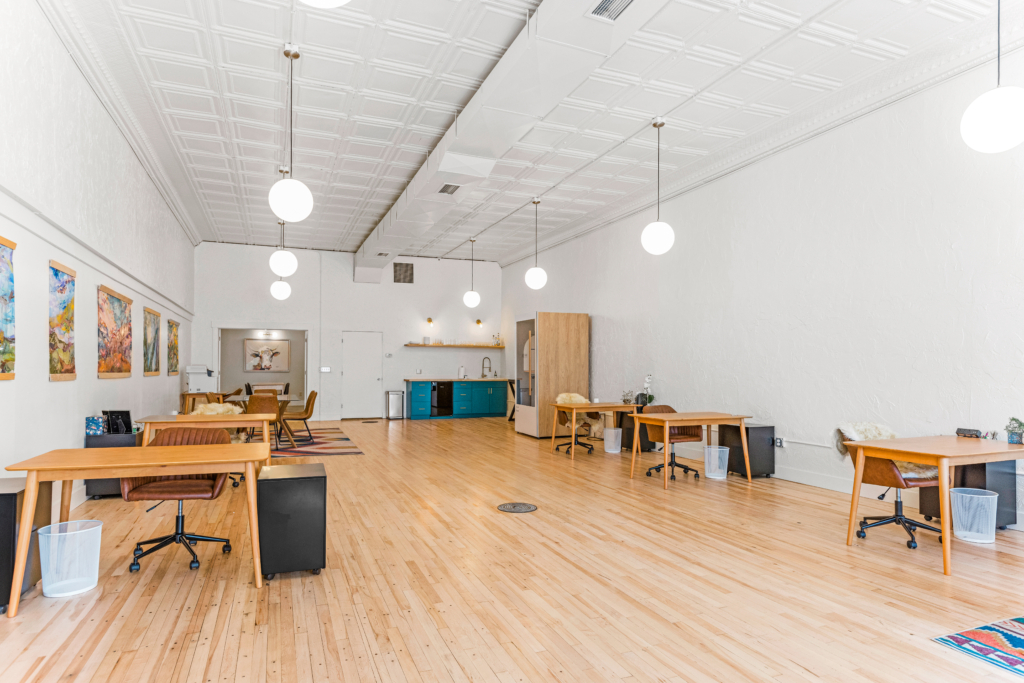 FLOORS
One of the biggest changes we made was restoring the original 100 year old maple hardwood floors. The floor had been previously painted over in a dark brown color, so we had to call our guy Cam Brown to get the job done. He filled in the missing pieces along the walls and in the front of the windows with a new maple hardwood flooring that matched then sanded and sealed the entire floor. When he was done, the floors were back to their former glory. This was a piece of the space we wanted to enhance, not change. We absolutely love the way it turned out. Real hardwood is hard to beat when it comes to adding warmth to your space.
PAINT
There have been many local businesses who called this space home before us. Sherwin Williams paint was a MUST for our space remodel because a long time ago the paint store was located in this building! Reminders of their presence are still visible on the back wall of the building in the form of a faded mural – the historic signage found throughout Helena's downtown.
The paint colors we chose throughout the space included:
"Creamy" – The perfect warm white for the main space and trim.
"Agreeable Grey" – For the conference room, hallway, and bathroom as the complimentary color.
Custom Teal – We handpicked two teal paints (a mix of "Really Teal" and "Grand Canal") in order to find the perfect color for our kitchenette cabinets. We just loved this pop of color and it added a focal point to draw your eye to the back of the space.
KITCHENETTE
We wanted to add a kitchenette to our space for the perfect hosting experience and when the time is right we can't wait to participate in downtown events, host gatherings, and bring the community together. When we're not out on the town supporting local coffee shops, cafes, and the occasional bar, we love the easy access to drinks and snacks in our office space. If you ask us, no bar area is complete without an assortment of Gulch Distillers spirits and hand-picked bottles of wine from The Hawthorn Bottle Shop & Tasting Room!
AGENT WORK AREAS, DESKS & CHAIRS
We designed our office around our agents, literally. Our agent's desks are in the middle of the room, which gives everyone the sense of collaboration while taking advantage of the natural day light that pours in through the front of the space. More than anything we wanted to avoid the typical work environment of a small, cramped cubicle with no natural light. To add a touch of texture we added these ethically sourced Montana sheep pelts to the agent's chairs. Mary hand-picked each Icelandic sheep pelt from Wolf Ridge Lamb & Wool Co. located in the Paradise Valley.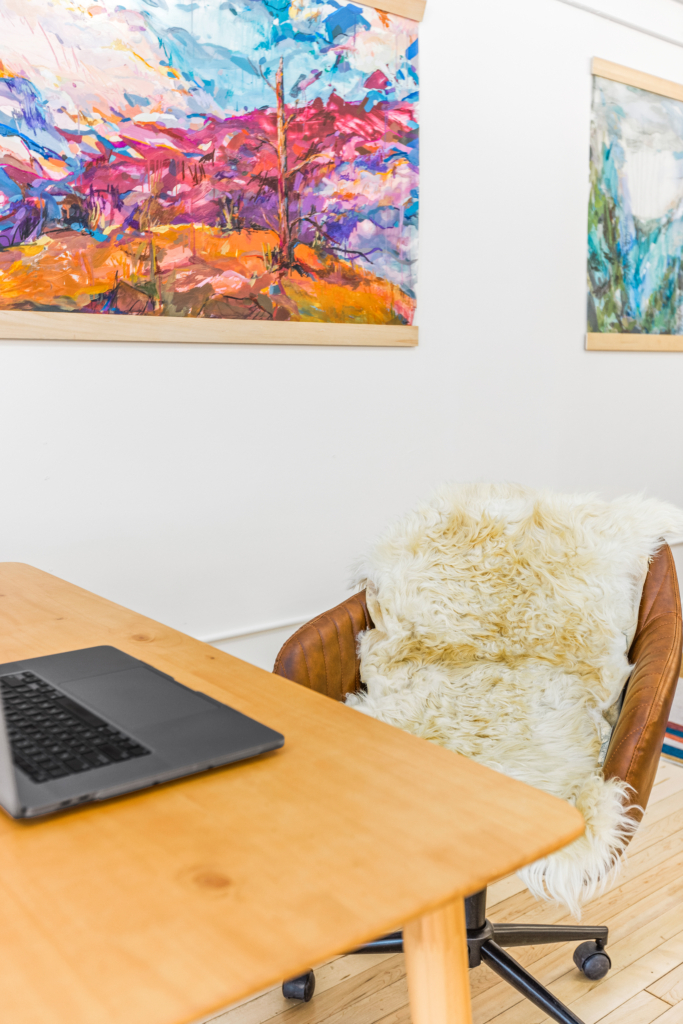 PHONE BOOTH
What do you do when you want a large, spacious, open floor plan but also need some privacy for calls? You get a ROOM phone booth, of course! We loved this creative solution for our office space because it allows us to have the type of office we've always dreamed of – open, bright, and conducive to collaboration.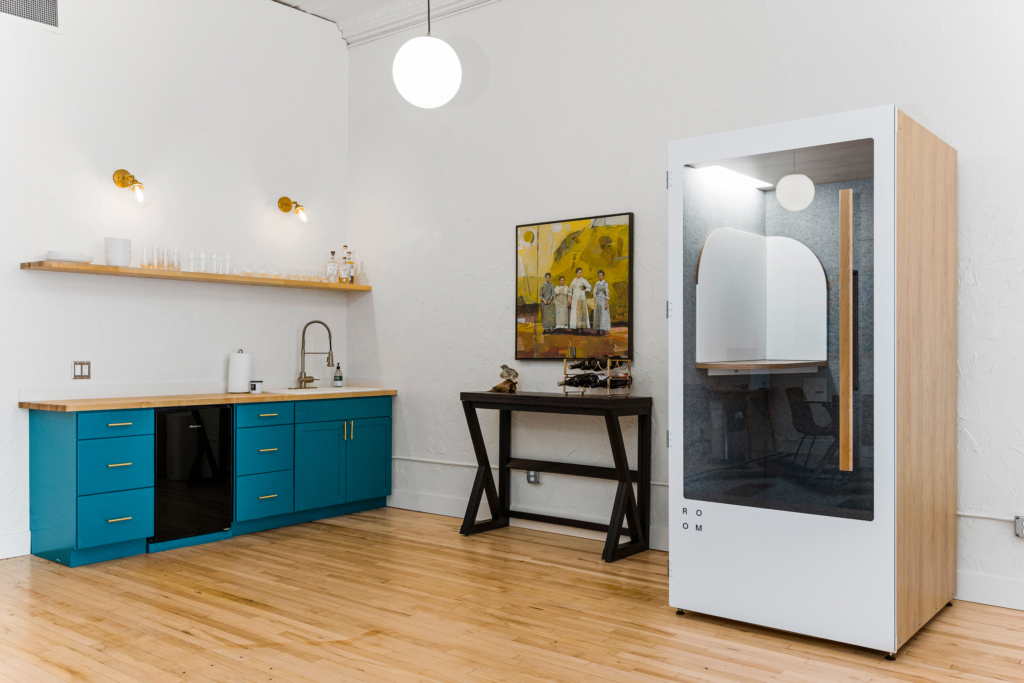 SEATING AREAS
Creating a comfortable, colorful environment was important to us as we took on the huge task of renovating a storefront in downtown Helena. Throughout our new office space you'll find soft seating areas as well as art. We especially love this little nook in the front of our office. Fun fact: this bull elk was shot by our owner, Mary Ahmann-Hibbard. Mary and her family enjoy hunting for wild game and providing meat for their family.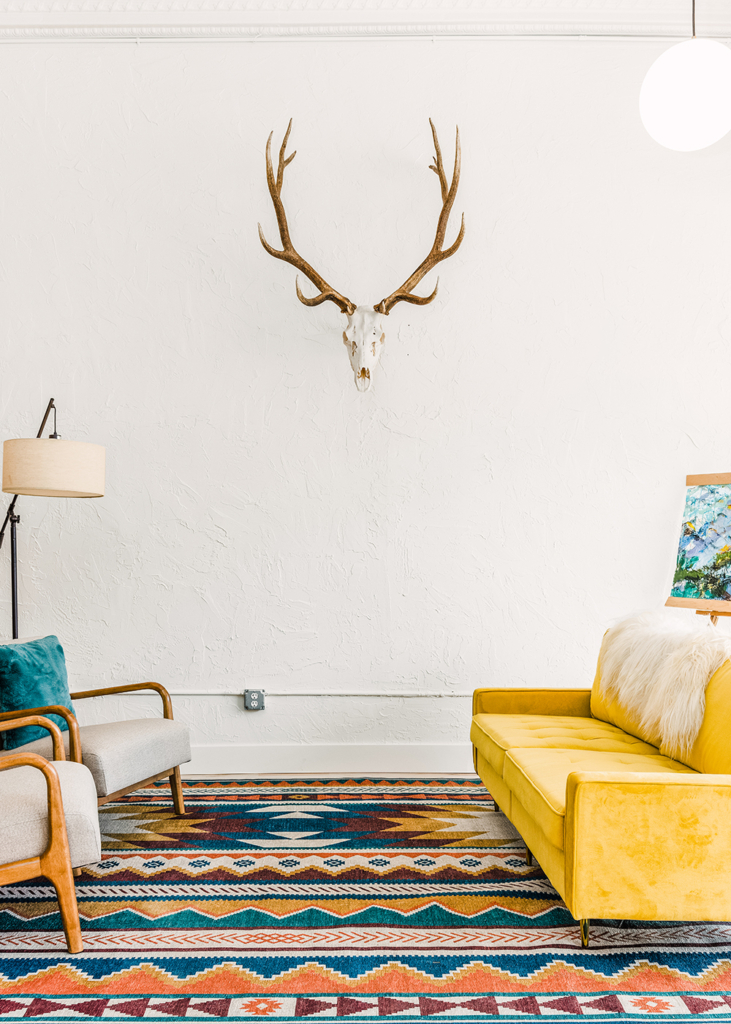 CONFERENCE ROOM
We converted the old breakroom into the perfect conference room! To separate the spaces we added the french doors which allow for privacy while letting in natural light. To further brighten up the space and keep with our lighting theme, we chose a globe chandelier and sconces to light up the room.
The focal point of our new conference room is our custom-made A.L. Swanson Craftsman Studios conference table.
"When I asked Al Swanson a few months ago to build me a custom desk, I never imagined I would have the emotional response I did to its beauty. Al has a gift to not only read the wood he is fashioning, but to incorporate the person he is building it for into the piece. I have known Al since he moved to Helena, as a neighbor, close friend and fellow board member. I am so grateful for his talents and his friendship. This desk is a true reflection of love. The four dragonflies represent my little family. My husband, two daughters and myself. The butterfly represents those who have gone before us, in particular my Dad, who inspired me to be a servant of the community. Al, I couldn't be happier with this work of art. Thank you dear friend. It's amazing to think this desk will live on for many, many generations after we are gone and what a beautiful story it will tell!" – Mary Ahmann Hibbard
There is something so special about incorporating hand crafted, locally-made pieces into your space. So after we commissioned Al to do this table, we brought in some more pieces by the talented craftsman including a stunning bookshelf and a custom stool to fit perfectly in our phone booth!
GALLERY WALL
There is a lot our team has in common, but one thing we all bond over is art. We were so excited to create a space where we can show the talented work of local artists and we couldn't be more pleased with the way this gallery wall turned out. Our first featured artist is Leah Cupino of The Art Space. Stop into our new office and view her art while we have it up. Ps. some of these pieces are still available for purchase!
WINDOWS
We opened up the front of the office to allow the space to flow seamlessly in our huge bay windows. We were so excited about the opportunities these windows allow. Right away we were able to decorate for the holidays with the help of Mae & June Vintage. Meagan bought products from her stylish shop to create a window display that we all fell in love with. We love showcasing local businesses and allowing the most creative to do what they do best!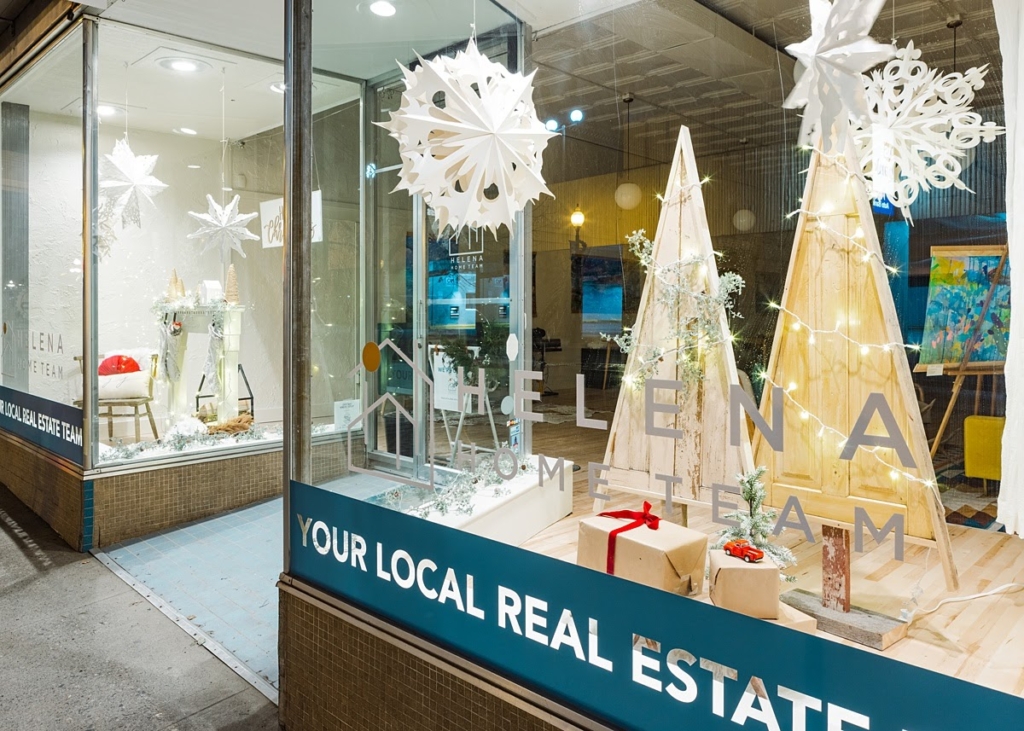 SIGNAGE
We love coming into our office space and putting out our open sign. This minimal frame and hanging sign from George and Willy goes perfectly with our design theme.
We wanted to take full advantage of our window real estate (see what we did there?) and put decals on the front of the office. A huge thanks to our neighbors Signs Now Helena for their work on this project!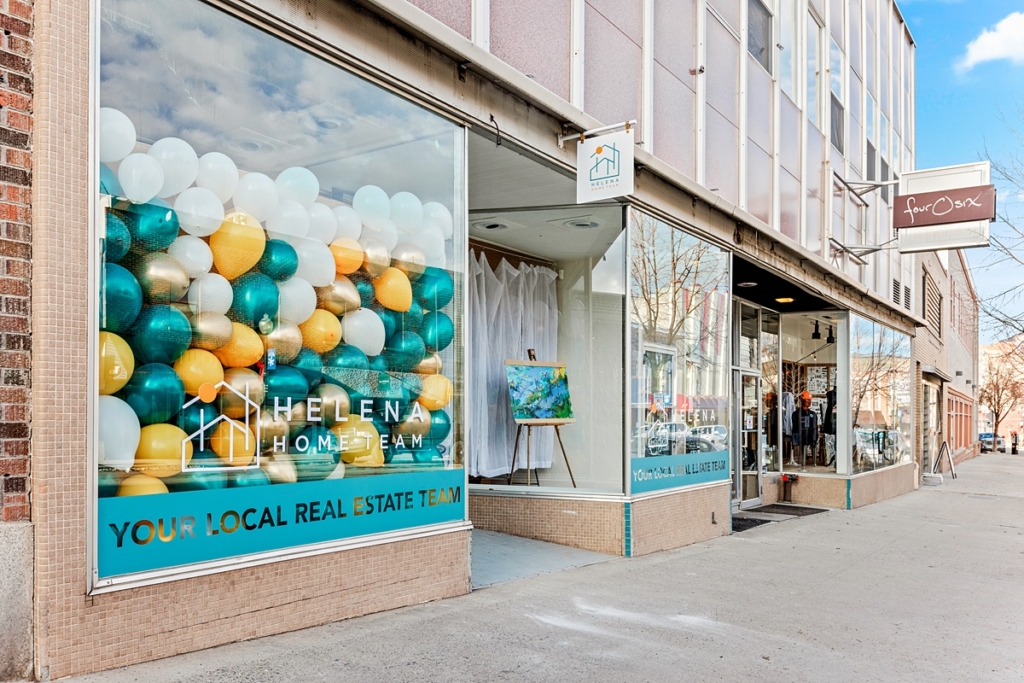 Starting a business in this community is a special experience. We're so thankful for you, Helena! Let us know what you think of our remodel in the comments below and please stop into our new space when you're in the neighborhood. We would love to show you around and introduce you to our agents!
OUR CONTRACTORS
We couldn't have done this project without our amazing contractors and service providers! We'd highlighly recommend each of these companies if you need any work done on your home or office space.
BURGLAND CONSTRUCTION, LLC
Brett Burgland, Owner – (406) 261-3297
CAM BROWN WOOD FLOORS
Cam Brown, Owner – (406) 461-4320
cambrownwoodfloors.com
INTEGRITY ELECRTIC INC
Zach Busilla (406) 459-3055
AARON'S PLUMBING & HEATING
Aaron Clark, Owner – (406) 502-1211